J.H. Bunnell & Co.
New York, USA
I have the company's Catalogue No. 28 copyright 1918. I also have the price lists for June 1, 1920, and September 15, 1920. If there's something in this catalog you would like to see, let me know and I'll scan it for you.

Online now are three pages: Page 1, Steel Lever Keys; Page 2, The Triumph Key; Page 71, Wireless Keys. These pages are also combined in a single PDF file.

Also, have a look at the Western Electric page. It appears that, after the turn of the 20th century, Western Electric was buying Bunnell keys, giving them the Western Electric look and selling them to AT&T and Western Union.

This page is still under construction...
(Click on the pictures to see larger images.)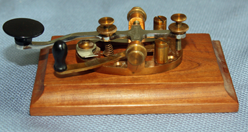 1918 Steel Lever Key
This is the Steel Lever Pattern key (not a Triumph) with the "Bunnell S" logo. The best source for information on this key is The Evolution of a Triumph.
0148